Preparing to Return to Work – the Breastmilk Freezer Stash
What is Reiki and How Can it Benefit You?
What the Heck is Cupping?
"What are those weird circles on your back?"
"Cupping? Didn't I hear about some celebrities doing that?"
"Were you in a fight with an octopus?"
Cupping is something I am passionate about because of my own experience. I had it done by my acupuncturist for a rib head that continuously popped out of place – the result of performing too many deep, deep tissue massages. The displacement of the rib head led to tight muscles, causing painful trigger points within them.
I had such fantastic results that I begun asking her for "Just cups. No needles, please." She educated me on how to do this for my clients, as well. After a couple of practice sessions, I decided that I could incorporate them into a 90 minute massage session, which took off, with great success! My acupuncturist even had me do many treatments for her (what an honor)!
What is Cupping?
Cupping is a term, used when glass or bamboo cups are applied to the skin, using heat to create vacuum suction. More modern "massage cupping" cups can be plastic, rubber, or silicone as well and do not utilize heat.
Once the cups are placed on the skin, they can be left for a period of time; usually 10-20 minutes, and/or gently slid across the skin, also called "gliding cups." The suction in the cups causes the skin and superficial muscle layers to be lightly drawn up, into the cup. Cupping is much like the inverse of massage – instead of applying pressure into the muscles, it uses gentle suction to pull them upward, away from the bones and deeper tissues.
Other Benefits Of Chinese Cupping
This treatment is also valuable for the lungs, and can clear congestion from a common cold or help to control a person's asthma. In fact, respiratory conditions are one of the most common ailments that cupping is used to relieve. In the earliest Chinese documentation of cupping, roughly 3,000 years ago, it was the suggested for the treatment of pulmonary tuberculosis.
I perform 90 minute cupping massages at Black Lotus Massage, part of The Mind Body Collective in Waterford. Clients report that the suction and negative pressure provided by cupping help to loosen their muscles and relieve back and neck pains, as well as reducing anxiety, fatigue, and migraines. Cupping is shown to encourage blood flow and sedate the nervous system, making it excellent for folks with high blood pressure. Cupping can even help to reduce cellulite.
What to Expect During Your Cupping Session
Your therapist will assess and evaluate your needs, based on conversation and your intake forms. You will be asked to undress to your level of comfort and lay on the table, under the covers (as you would a massage), while your therapist steps out of the room to allow you privacy. Massage will be performed to warm up the muscles and tissues, as well as to feel for any knots, lesions, scar tissue, or fascial restrictions.
To apply the cups, your therapist will saturate a cotton ball with alcohol and light it on fire. The cotton is quickly passed in and out of the glass cups, which look like miniature fish bowls. Quickly, the cups will be placed upside down on your skin. As the air inside the cup cools, it creates a vacuum. You may feel heat from the fire, but it should never be hot. Generally, cups are placed along both sides of the spine, starting at the sacrum.
Special attention is paid to your "problem areas", or areas of concern. The cups are left in place for 10-20 minutes. Meanwhile, your therapist will massage your arms and legs. Cups may then be slid to new areas, helping to deepen the relaxation by stretching and stimulating the connective tissues. Once the desired effect has been achieved, the cups will be removed and the massage will continue to deepen your relaxation.
After Your Cupping Session
After your session, it is recommended that you keep warm and dry, as your pores will be open. Traditional Chinese Medicine (TCM) considers dampness to be cause for a multitude of ailments, such as joint soreness and pain, heaviness of the head, chest congestion, nausea, poor appetite, loose stools, fever, restlessness, and thirst, among other problems. You may see visible marks, which look like bruises, called petechiae. They are painless and typically last up to a week. (If anything, they make a great conversation starter!)
Clients LOVE cupping! Just see for yourself:
"I have done cupping with Bridgette. I was nervous at first but she explained everything –
from what I would feel to the pros and cons of cupping. During the process, it was a weird sensation, but very relaxing. The next day, my hips felt so much looser and my shoulders were not longer in my ears. I would recommend cupping and I will continue cupping." – Kaylen

"[A]s an almost 47 year old martial artist [cups] sure come in handy." – Kelli

"True relief to entire back area!" – Jerry

"Nothing relieves my migraines quite like Bridgette's cupping massage. I wish I had stumbled on it sooner!" – Jessica
Our 90 minute cupping massages are $105 for new or infrequent guests and $95 for monthly patrons of Black Lotus Massage.
To book your session today (or for questions), please feel free to contact me using our contact form, email blacklotusmassageco@gmail.com or call/text 248-882-2015.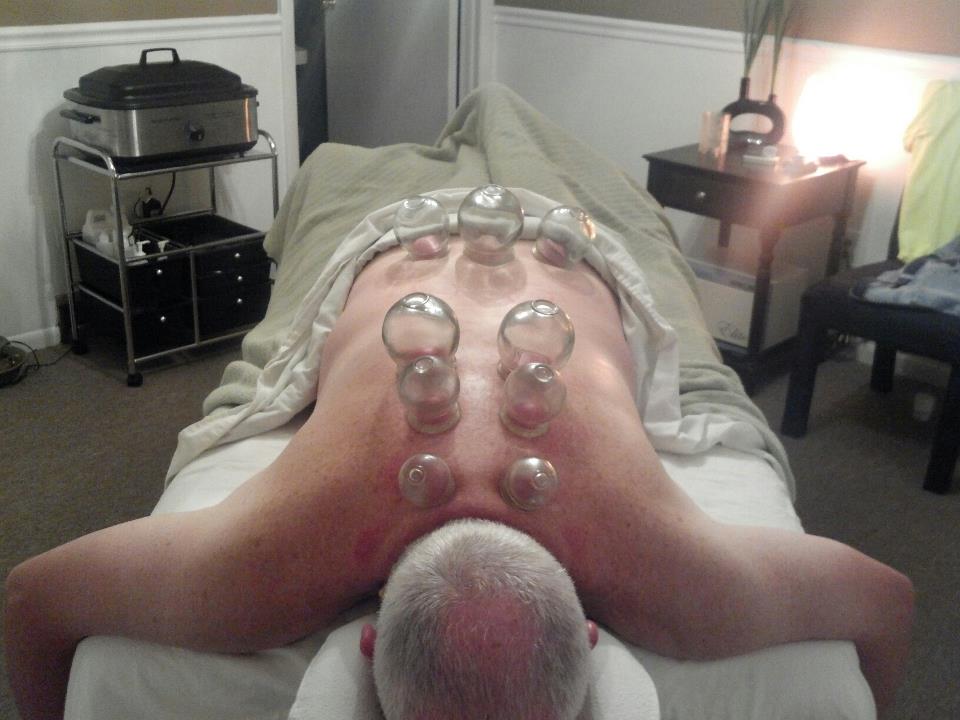 Black Lotus Massage – Services and Pricing
Sources:
The Many Benefits of Chinese Cupping, Pacific College of Oriental Medicine